On June 1, 1983, starting with hosiery, bodysuits, cotton bikinis, string bikinis, and tops, husband and wife team Ugo and Valeria Campello launched a new intimate apparel brand -Cosabella. Italian for "Beautiful thing," the Cosabella name has become world-famous. They celebrate 37 years of Cosabella this month.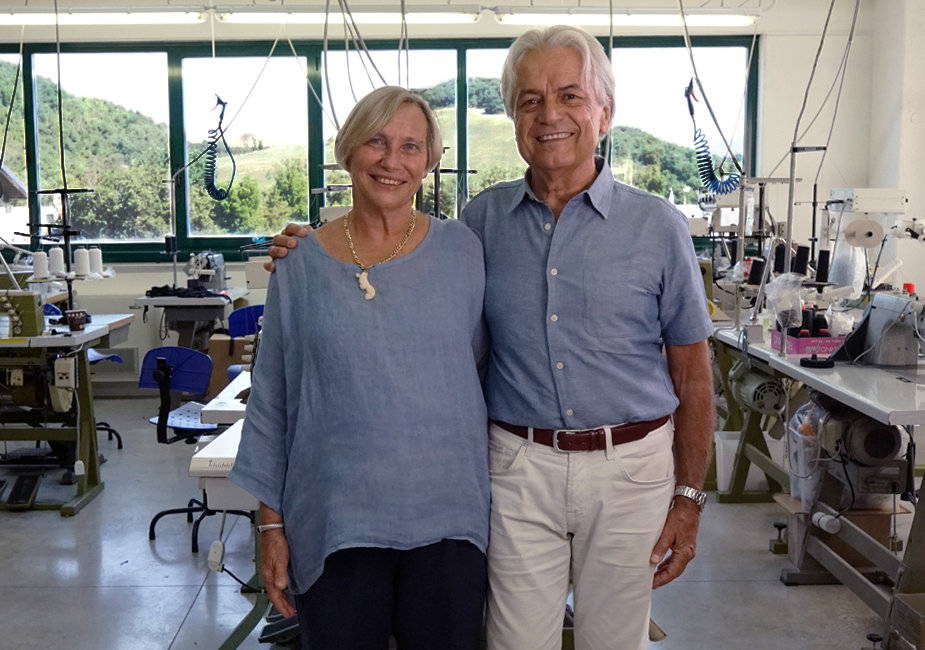 Growing up in Italy, Valeria graduated with a law degree from the University of Modena and Reggio, and Ugo graduated with an Engineering degree from the University of Padua, the same school where Galileo taught students centuries earlier.
Ugo and Valeria with 3 years old Silvia moved to Miami, Florida in 1980 for an 8 months Engineering job, just in time to give birth to Guido, followed by Stefano in 1991.
As Valeria tells it, "Everybody thought we were crazy" when Ugo decided to quit his well-paying Engineering job and together with his wife, and begin the adventure of designing and selling lingerie made in Italy, and bringing it to the US. Nevertheless, they were ready for a change and they launched Cosabella in 1983. Within a few years, it was on its way to becoming a well-known, luxury, Italian-made lingerie brand. To Ugo, it has always been about the customers. "The most important thing is to make customers happy and understand what they need."
Starting a luxury lingerie company hasn't always been smooth going. In August 1992, a Category 5 hurricane, with high winds of up to 174 mph, and causing over $27.3 billion in damage, Hurricane Andrew hit Miami. That hurricane destroyed the entire Miami Warehouse and business offices they had recently moved into. Fortunately, their own house was saved, and so the offices, the 10 people Team, and the warehouse moved into their home. "The moment that I remember more with pleasure….the year that came after hurricane Andrew – working in the house, 10 people only…. a team working together…We grew from there." They shipped, stored, and worked from the living rooms, bedrooms, kitchens, and garage for a full year. Every room was filled with boxes, every available seat was filled. Ugo said, "In the worst situation you found yourself the energy to bounce up and find opportunities. It was a pleasure to be able to bounce back." and Valeria agrees. "We were able to transform and be a team. We were very close. We didn't have to go out. It (was a) really concentrated feeling of working against everything but with a clear mind… there was a great opportunity, a lot of excitement…and the Soire thong was created that year." The Soire thong, known for its lightweight Soire mesh, and featuring No VPL (Visible Panty Line), became one of their best selling, most iconic, signature products. Its latest version, the Soire Confidence original thong, is still produced today and remains a top seller.
As a husband and wife team, Ugo and Valeria ride to work together and sit at desks beside each other, as they have for 37 years. To them, working with your spouse every single day is about respect and appreciation and knowledge of your own strengths and weaknesses. Valeria notes, "I am a creative person, but Ugo is the one with the concrete ideas that make it happens. She feels her law studies help her look always for a solution, an answer, or an alternative and see things differently – "there is no difficulty that can't be worked out." For Ugo, the mental discipline and work habits of being an engineer have helped him in the world of apparel designs.
Now, 37 years after they first started Cosabella, Ugo and Valeria have stepped back in their roles, to allow their children, Silvia and Guido, to head the Cosabella ship, as Co-CEOs. Valeria sees her children as a version of the team she and Ugo were so many years ago – "they work together similarly and their strengths complement each other. " Silvia is more practical, detail-minded, and puts things into a realistic perspective. "She was a ballerina, and so to her, everything has to be done in a certain way or it doesn't work." Guido is more creative and pushes for action and calculated risks with incredible vision for the future. His dad says, "His way is to jump with the confidence that he can land without breaking his legs."
As they look back on what has become the ride of a lifetime, Ugo reflects: "It's been incredible. We are very lucky because we have made such a great team… An incredible combination of abilities… An incredible adventure."